Why people Choose JHRR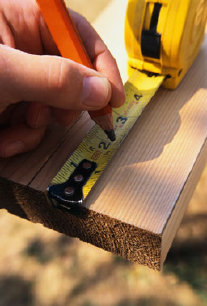 Why people choose Jacksonville Home Repair and Remodeling
Let us show you our difference….
When it comes to Home Repair, Remodeling and Renovation services, we know you have a lot of choices. So what separates JHRR from the others? It can best be summed up as our uncompromised pursuit of excellence and our outstanding customer service. We must deliver the highest quality of craftsmanship to all our customers. Our focused ability to exceed our customer's desires and expectations permeates all that we do, from selecting  project materials to ensuring we are constantly working with you to get the job done professionally, quickly, with high quality results. Don't take our word for it, call for a free no obligation estimate today and let us show you the difference!
Our Commitment
At JHRR we are committed to giving the best possible quality and service at an affordable price. Whether your job is small or extensive doesn't affect our philosophy of quality workmanship and complete customer satisfaction. Our business has grown thru the referrals of satisfied customers. We want you to be, "Our Customers for Life".
Our 2 Year Warranty
If you should decide to use another company to meet your Home Repair or Remodeling needs, please ask them if they have a warranty. If they do have a Warranty, ask them to put it in writing. JHRR will repair, correct, or replace, any instances of defective workmanship performed or defective materials used to complete the Customer's job for a period of 2 years. We stand behind all of our work, no matter the size of the project. Should any unexpected issues arise, we will do what it takes to get it right.  We want you to be our customer for life.
Our Team
The quality of our services comes from the expertise and commitment in each member of the JHRR team. We treat our customers the way we want to be treated, with respect, integrity, honesty, and dedication. Our attention to detail is unmatched. You will see what separates us from our competition with every project we complete. We take the time to listen to you in order to give you the best options available for your project.
Finance
At this time JHRR does not offer in house financing at this time. We are however in the initial phases of developing relationships with area lending institutions in an effort to offer our customers financing. We will provide you and your lending institution with any and all of the necessary information regarding your project in an effort to assist you in your own financing efforts.
Copyright (C) 1996, 1999, 2000, 2003, 2008 JHRR, Inc. All Rights Reserved